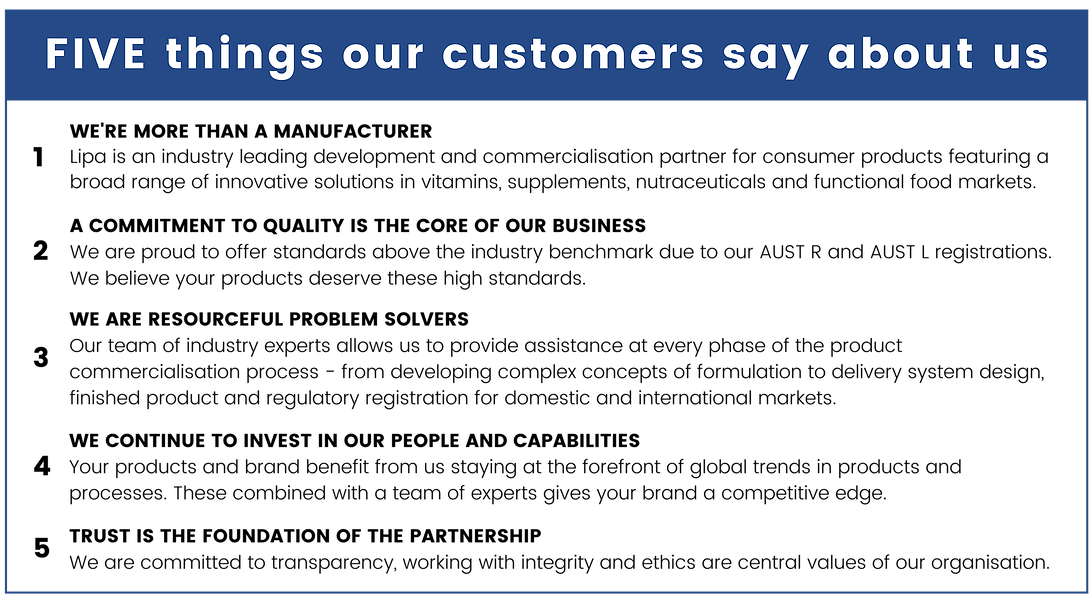 Five Things Our Customers Say About Us
1. WE'RE MORE THAN A MANUFACTURER
Lipa is an industry leading development and commercialisation partner for consumer products featuring a broad range of innovative solutions in vitamins, supplements, nutraceuticals and functional food markets.


2. A COMMITMENT TO QUALITY IS THE CORE OF OUR BUSINESS
We are proud to offer standards above the industry benchmark due to our AUST R and AUST L registrations. We believe your products deserve these high standards.


3. WE ARE RESOURCEFUL PROBLEM SOLVERS
Our team of industry experts allows us to provide assistance at every phase of the product commercialisation process from developing complex concepts of formulation to delivery system design, finished product and regulatory registration for domestic and international markets.


4 WE CONTINUE TO INVEST IN OUR PEOPLE AND CAPABILITIES
Your products and brand benefit from us staying at the forefront of global trends in products and processes. These combined with a team of experts gives your brand a competitive edge.


5. TRUST IS THE FOUNDATION OF THE PARTNERSHIP
We are committed to transparency, working with integrity and ethics are central values of our organisation.



2021 Copyright Lipa Pharmaceuticals | Website built by oz4host